Renadyl™ – Product Overview
Description of Product
Product  description
Renadyl™ is a kidney health supplement that has been scientifically formulated and clinically tested to reduce nitrogenous waste metabolites in the bowel and also stabilize healthy gut flora.
Our probiotic formulation of S.thermophilus (KB19), L.acidophilus (KB27) and B.longum (KB31) are naturally occurring microbes that target and metabolize various nitrogenous wastes that diffuse from the bloodstream into the bowel.
These beneficial microbes have a high affinity to metabolize and consume the targeted nitrogenous waste products. Renadyl also contains two types of prebiotic fibers, which allow the probiotic microbes to flourish, as well as promoting the growth of your own healthy gut microbes.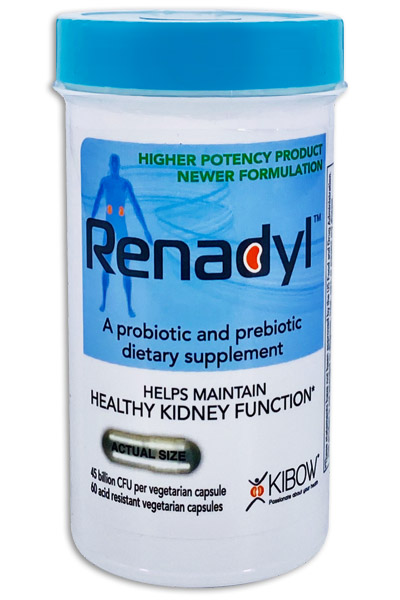 Highlights of Product
Product  highlights
1. High concentration of probiotic microbes, 45 billion colony-forming units (CFUs) per acid-resistant capsule.
2. Three proprietary strains of probiotics, selected by science for their ability to metabolize nitrogenous waste.
3. Two prebiotic fibers, to promote the growth of the probiotics found in Renadyl and your own beneficial gut microbes.
4. Three clinical trials and three customer surveys have proven Renadyl's ability to maintain healthy kidney function and improve quality of life.
Our name, Kibow™, is a compounded word derived from how our product works. That is, the "Ki" is from the word "kidney." The "bow" comes from the word, "bowel," which is where our probiotics work. Thus "Kibow."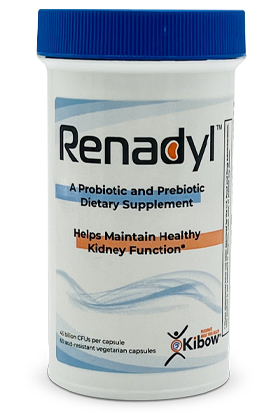 I took 1 capsule at all 3 meals for 2 weeks and then increased to 2 capsules each meal with absolutely no untoward GI symptoms. I am also beginning to note an improvement in vascular function.

California Has taken Renadyl™ for 6 months

On December 3rd, my BUN was 96, and by January 7th it was 64. I was not careful with my diet during the holiday season, so I attribute this big shift to Renadyl™.

Connecticut Has taken Renadyl™ for 1½ years

I was losing a lot of weight and I was looking very yellow in the face. People were saying that I was looking already dead. And now I have color in my face. I look normal and my vitality has totally increased.

A patient using Renadyl™
SUBSCRIBE NOW
RECEIVE FREE NEWSLETTER
 EXPERT ADVICE TO HELP YOU
FIND THE BEST SUITABLE PRODUCTS PACKAGE