Renadyl™ – Free Shipping* on FTO
Health is Freedom. As a company that is passionate about your health , Kibow Biotech™ would like to put the "free" in your freedom by offering free shipping!* Applicable to purchase of Renadyl™ 3-bottles
Product  description
Renadyl™, a natural probiotic, is designed to help promote kidney health. The probiotics found within Renadyl™ are specially formulated to metabolize toxic waste within the colon.
Toxins diffuse from the bloodstream into the colon as their concentrations increase, such as when the kidneys become damaged or impaired. When these waste products accumulate in high concentrations in the blood, they become highly toxic and can cause severe damage to many organ systems if they are not properly excreted.
Renadyl™ turns the nitrogenous waste into nutrients that help the probiotics grow and multiply. As the probiotics continue to increase in size and number, they consume more nitrogenous waste and therefore effectively help maintain kidney health.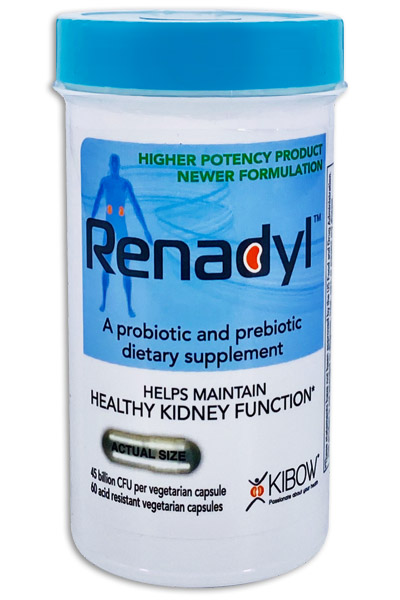 Product  highlights
Renadyl's™ patented enteric toxin reduction technology uses probiotic organisms to transform the colon into a blood-cleansing agent.
Renadyl™ have been clinically tested and shown to be safe, free of serious side effects, and effective in helping the body rid itself of harmful toxins when taken for as long as 6 months.
Renadyl™ has been shown to reduce levels of the harmful toxins caused by kidney dysfunction and improve the quality of life of those living with kidney problems.
Renadyl™, can utilize toxins like urea, uric acid, creatinine, and other waste as nutrients for growth.They then multiply and help transport these toxins across the lining of the intestinal walls, down into the bowel.
New Customers – Create a new account here or on Order Now button on the Free Shipping Banner and then add the item to cart to avail free shipping on first order.

* Free Shipping offer may not be used with any other offer/discount. Valid for the limited period. Call +1.888.271.2560 (US) for more details.
Gain understanding.
Discover your options.
And most of all, find hope.
Supporting kidney health starts with having the right perspective. As you or one of your loved ones takes steps toward maintaining healthy kidney function, it is important to gather information about kidney failure that will help sustain a positive outlook and provide options for feeling better.
The more you understand about kidney failure, chronic kidney disease, various management options, and the vital role that probiotics can play in maintaining kidney health, the more confident and optimistic you will feel. As you continue to learn about proper kidney care, remember, with understanding comes hope.
I took 1 capsule at all 3 meals for 2 weeks and then increased to 2 capsules each meal with absolutely no untoward GI symptoms. I am also beginning to note an improvement in vascular function.

California Has taken Renadyl™ for 6 months

On December 3rd, my BUN was 96, and by January 7th it was 64. I was not careful with my diet during the holiday season, so I attribute this big shift to Renadyl™.

Connecticut Has taken Renadyl™ for 1½ years

I was losing a lot of weight and I was looking very yellow in the face. People were saying that I was looking already dead. And now I have color in my face. I look normal and my vitality has totally increased.

A patient using Renadyl™